Skip to product information
El Jardin Espresso
Jorge Elías Rojas is a fourth-generation coffee grower on his way to making history in the coffee industry. His farm, Finca El Jardin, is located in Planadas, Tolima, Colombia, and is a haven to a diverse range of coffee varieties. 
With an average of 4,000 Caturra, 7,000 Yellow Colombia, 1,000 Pink Bourbon, 800 Wush Wush, and 1,000 Geisha coffee treesspread across 3 hectares of land, Jorge is always striving to improve the quality of his coffee and that of his community.
Jorge's journey in coffee began at 13 years old. His mother gave him the opportunity to work on the farm, and shortly thereafter he also found himself working as a bag handler at one of the local associations in town.
As he grew in experience, and learned everything he needed to know to run a coffee farm, he found himself inheriting part of his father's farm, and bought part of his neighbor's land, founding what is now known as Finca El Jardin.
Ever since 2016, when Jorge was introduced to specialty coffee, he has been experimenting with new ways to improve his cup quality. He developed his own fermentation and drying process which, as always, starts with a very strict selection of coffee cherries during harvest season.
Jorge's dedication to producing high-quality coffee hasn't gone unnoticed. He created his own brand, La Roca, and is currently building a wet mill since he plans to buy and process coffee cherries from his neighbors. His dream is to become a renowned producer in his region, and hopes that his son of 10 years old, will become the next generation of coffee farmers, carrying on the legacy of this craft.
If you're looking for a truly outstanding coffee experience, be sure to try the coffee from Finca El Jardin. Jorge Rojas' dedication and vocation to producing an always-improving coffee is visible in every cup, and his innovative approach to coffee production is sure to turn heads.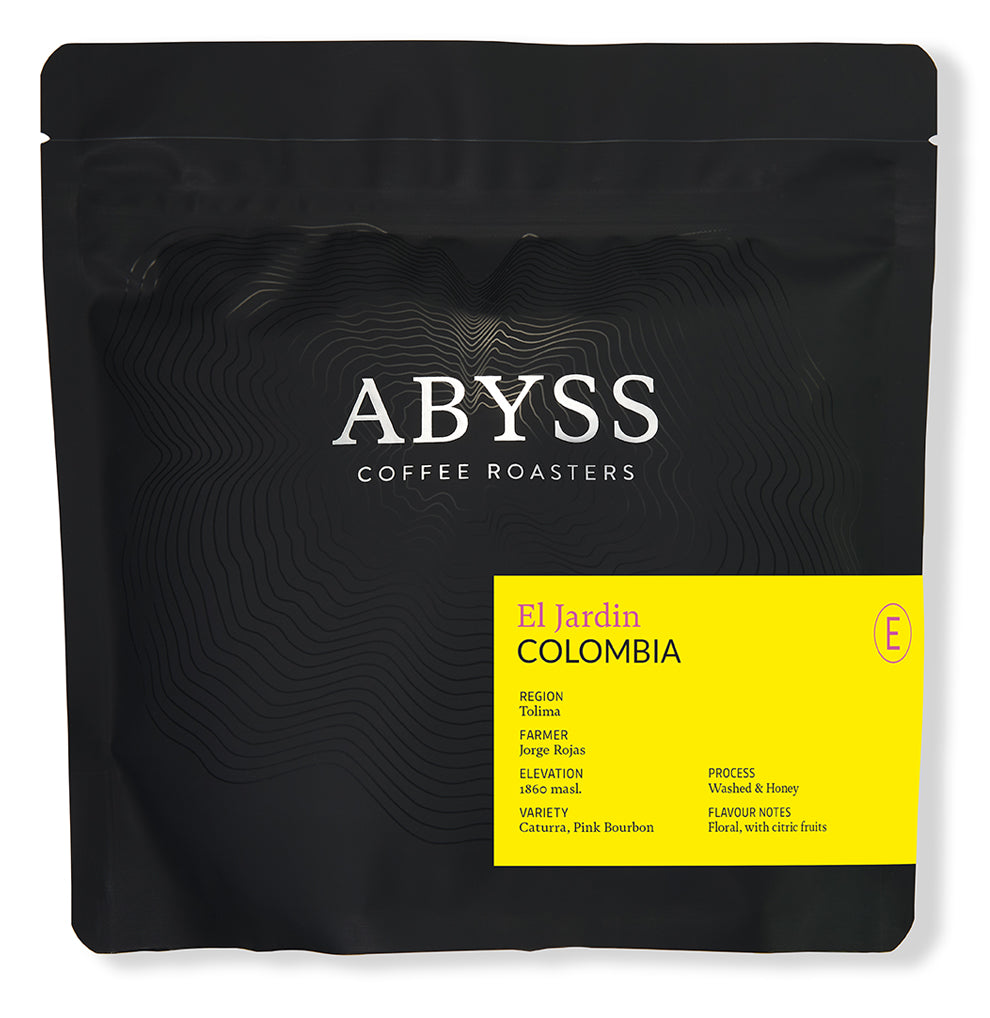 Brew Guide
Grind Size

Grind size is important and varies from grinder to grinder. Below we suggest a rating from 1 to 10. 1 = extremely fine, too fine. 10 = very coarse, too coarse.
Pour-Over with Filter (V60/Chemex)

Coffee Grind 6-7

We use 15 grams of coffee with 250 grams of 95 degree water.

Wet the filter with hot water and discard the water.


Pour 40 grams of water onto the coffee to bloom and give the brewer a gentle swirl, wait 30 seconds

Add another 40 grams of water and give it another gentle swirl, wait 30
seconds

Slowly add 85 grams more water and give another gentle swirl


Finally slowly add the remainder water and give a final gentle swirl


The water should filter through and have a flat base of coffee with only
fines stuck to the upper filter wall.
Aeropress (non inverted)

Coffee Grind 5-6

We use 15 grams of coffee with 200 grams of 95 degree water.

Add the coffee to the AeroPress, then pour all the water to the AeroPress and give it a quick swirl with a spoon.

Put the AeroPress plunger into the top of the AeroPress about 1 cm and then pull back slightly to create a vacuum.

Let the coffee steep for 1:30.

Slowly plunge the AeroPress for 30 seconds ending at a total brew time of 2 minutes.
Moka Pot

Coffee Grind 3-4


Depending on the size of the Moka pot will dictate how much coffee to use.

Boil some water in a kettle and warm your element to medium low.

Fill the Moka water chamber to just below the steam spout with your
boiled water, make sure not to cover it.


Place the coffee in the basket and level it off, do not pack it down.


Place the basket in the Moka pot and screw the lid on.


Place the Moka pot on the element and open the lid of the Moka pot.


Let the coffee brew and it will rise to the upper chamber and make a
hissing sound when it is done.


Remove it from the element, close the lid and serve.
French Press

Coffee Grind 8-9


We use 75 grams per litre (depending on the size of your French Press).


Put the coffee on the French Press.


Pour the required amount of 95 degree water and let it steep for 4
minutes.


Use a spoon to break the crust and let the coffee fall to the bottom of
the vessel.


Put the French press lid on and only plunge to the top of the water.


Let the coffee steep for another 5 minutes.


Push down the plunger ¾ of the way, never touching the coffee bed on
the bottom.


Pour your coffee.
Espresso

Coffee Grind 2-3


Depending on your basket size will depend on the amount of coffee to use.

We use 18 grams of coffee to yield about 36 grams of coffee.

Your brew should take between 27-33 seconds to pour according to your taste preference. The longer amount of time the more extracted and possibly bitter it could be. The shorter amount of time could result in under-extracted, lighter body and possibly sour tasting coffee.